The day started off cold and misty. There was some contemplation as to whether there will be a good turnout. However as believers we do know how to persevere in the midst of our trails and tribulations and all who enrolled arrived safely to partake.
We were surprised with the team from Malagassy who also won the Tournament.  Congratulations to the Champions of the GCI Solid Rock Youth Day 7-A-Side Soccer Tournament: The Malagasy Team!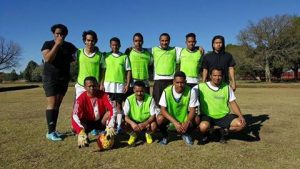 A special word of thanks also to Mike and Dalene Burt and the GCI Solid Rock Church for a wonderful day. We had a great time. We networked and made a lot of new friends in the city. Ps Johan Retief of Solid Rock and CMC thanks for inviting us to this great and positive event.Several teams were enrolled and of course we had to also enroll our very one and only 777th Precinct soccer team for the tournament.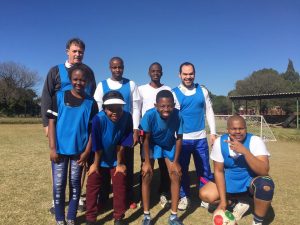 Our team huffed and puffed but at least made it to the last game without expiring. Thanks to all of you guys of the 777th Precinct team who displayed godly character all the time and made me proud.
Of course our team would never have done so well if it was not for the support on the side of the field. I was concerned at one stage that Wendy would lose her voice…. Good news she spoke to me this morning and she still have a voice.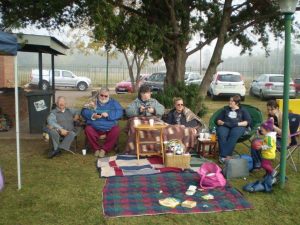 GCI Solid Rock Team and other Teams we will meet again next year and our expectation is to rise from being the tail to becoming the head in the tournament of 2017.
The 777th Precinct Ministries would like to thank GCI Solid Rock for the tournament, and all the teams for their participation. It was great being part of such a positive day. We pray that everyone traveled safely back home. To God be the GLORY for this wonderful day of fellowship and love in the city of Pretoria. Grace and peace to you all.